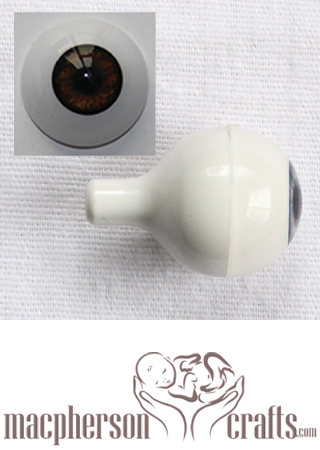 Full Round Eyes for Sculpting ~ Chocolate Brown 12mm
Full Round Eyes for Sculpting ~ Chocolate Brown 12mm
Share:
Full-round eyes are those that have an attached backside shaped like a funnel. This style eye is perfectly suited to our sculpting foundation. It snaps right into the eye sockets of the sculpting foundation and allows the eyes to be positioned as desired. REAL EYES Brand Doll eyes® are the most life-like eyes available today and fit our form the very best. They are oven safe at temperatures compatible with most polymer clays baking specifications and will never change colors!
Reviews
Friday, 24 August 2018
I have these eyes for the sculpting form and they fit perfectly, the clay does not get caught on the eye and it makes for a great sculpting experience. PLUS they are beautiful eyes for your sculpt to have when he or she is finished! I definitely recommend buying these!
Rick Summers