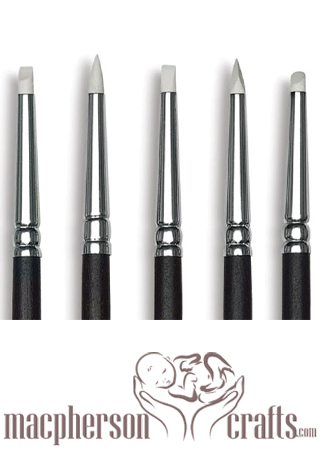 5 Piece Clay Shaper Set - Size 2
If there is only one set of sculpting tools you ever buy, these need to be that set!
Most artists make slits and gashes instead of actual wrinkles, but with the clay shaper tools you can make smooth rounded wrinkles just like real baby wrinkles!
Our soft-tipped, high quality clay shapers will last you a very long time and not break down with regular wear and tear like cheaper, hard-tipped imitations.
This is the best set of sculpting tools for baby sculptors in the doll world today. They allow a level of control not available with most other kinds of tools. They allow you to reach into the tiniest areas to add incredible detail. They are like having tiny little fingers that can shape, smooth, and create little fat creases and fat rolls that are impossible to make with your big fingers.
Set Includes 1 each Size 2:
Taper Point
Angle Chisel
Flat Chisel
Cup Round
Cup Chisel
Reviews
There are yet no reviews for this product.