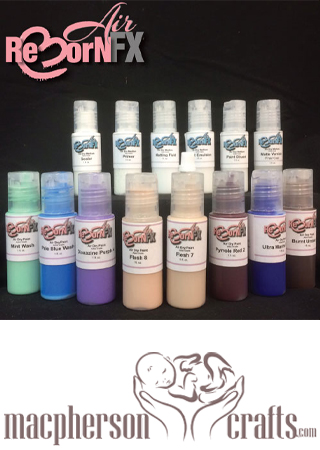 RebornFX Air ~ Original GHSP Basic Set
This is the same basic set as the original one that Stephanie Sullivan had recomended in the Genesis colors.
We did replace the green color on her list with the blue and mint wash
Shelley will explain the reason for this in her YouTube Video we will be putting up very soon.
Set inlcudes
Flesh 8
Flesh 7
Burnt Umber
Pyrrole Red 2
Ultra Marine Blue
Dioxine Purple 04
Pale Blue Wash
Mint Wash
Primer
Sealer
Matting Fluid
Paint Dilutent
Correction Fluid
Matt Varnish
3 ml of gloss varnish
Compatible with BabyFX or Baby FX and Miracle Blend Air Dry Paints
ReBornFX Air Product Information
Reviews
There are yet no reviews for this product.