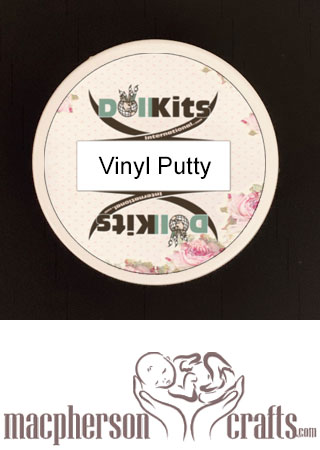 xVinyl Putty ~ Heat Set ~ Petite
Vinyl Putty ~ Heat Set ~ Petite

NEW & IMPROVED FORMULA


Share:
Improved formula that now has more strength and bonding abilities on
vinyl. Can now be used on small cuts for repairs (eg eye slits) or
smooth out ridges or small holes. Can be painted over top with heat
set paints. Air dry paints can also be painted over top if a primer is
used first.

Instructions on use; Heat set at 270 F for 10 min. Do not add stress
onto the repaired area for 24 hours after baked.
It can be used for many repair purposes
Often when vinyl is heated unwanted bubbles and tiny holes can appear that cannot be detected prior to heating.
Also.......some vinyl parts have silvers or impurities embedded in the vinyl which if removed this filler can be used to fill the holes.
This can be a lifesaver for many Reborn artist using any heat set product....we also have a tutorial attached to this description of this product
can also found in the tutorial section.
this adheres to vinyl
remains flexible
can be heated
once it has been heat set.....both acrylic and genesis paints will adhere to it.
SEE OUR TUTORIAL HERE
Reviews
There are yet no reviews for this product.
Download Products

downloads