Lenka P Hucinova
Interview by
MacPherson Arts & Crafts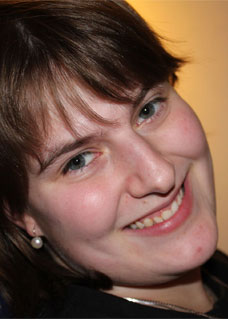 1.Where are you from and where do you live now?
I'm from Olomouc, Czech Republic and I absolutely love it here.
2.Have you always been interested in dolls?
Well, I have always been more of a tomboy girl, my favourite toy has ever been LEGO. But I have also loved art, creating and crafting, so I came to reborning and doll sculpting this way.
3.When did you first become interested in sculpting?
I studied art school and then art and education at university, so I've had a lot of experience with sculpting since I was kid.
4.How did you first encounter reborn dolls?
It was around 2007, when I was in high school. I was fascinated by the individualism of every single doll, and by the process of their creation. I graduated in 2008 and as a gift for graduation my parents got me a reborn doll. It still is the only reborn doll not made by me that I've ever had.
5.Have you sculpted dolls from the time you started sculpting, or did you start off with something else?
I start sculpting dolls during my time at University. It has not been easy, because the true artists don't consider these types of crafts to be actual art.
6.How long have you been sculpting?
About 8 years now.
7.What medium do you use to sculpt your babies with? I use polymer clay – mostly Living doll by Super Sculpey
8.What inspires & motivates you to sculpt?
I had an ultimate goal – to have my own kit one day.
9.Do you sculpt full time & do you have other hobbies?
I do reborn full time. Sculpting is just a free time hobby, which is why I only produce one or two kits per year. My other great hobby is LEGO – I do create my own models and take part in exhibitions and LEGO shows.
10.Do you only sculpt for kit production or do you do custom portrait orders too?
Just for kit production. Since I'm mainly a reborn artist, finding the time to make custom portrait sculpts while tending to my patrons and customers at the same time would be difficult at best.
11.When did your first kit come out and what was the baby's name?
My first kit was the sleeping Leonor, released in 2014. She is still very special to me.
12.How many kits have you produced to date? 4 regular babies and 4 fantasy kits. And one other premature kit is on his way.  
13.Do you have a list of names of all of your kits you have produced as we would love to have an archive directory for your sculpts?
By the order of production: Leonor, Malenka, Chobby, Cherry, Sheila, Pan, Puck, Petya
14.Which baby of yours has been your all-time favorite and why?
Well, I'm pregnant now – it has been a long and not easy journey for us so the baby boy in my belly is definitely my all-time favourite.
15.Do you plan to continue sculpting babies for kits?
Absolutely. I'm hoping to sculpt a kit inspired by my baby boy, once he is born.
16.How do you feel about the reborn doll industry? What excites you and what upsets you?
I feel it's different here, in Czech Republic. Most of my customers are local, they know each other, often get together, so the whole "industry" is quite personal. For that reason, I don't really use eBay. PayPal only gets used for orders from abroad. Since I'm not very social, I only use Facebook because I must.
17.How do you feel about the progression of the art of reborning over the past 10 years?
Progress in sculpting is awesome. More and more sculptors are able to produce their kits and the variability and individualism of their work inspire others. Even TrueBorn kits bring so much to this process.
18.Do you think that this industry has a long-term future, or do you think it's just a fad that will blow over?
Since I started in 2008, I never imagined I will end up being a professional reborn artist or that the whole thing would last more than a year or two. 10 years later I still consider myself incredibly lucky to be where I am. I have always been conscious that the whole business might be a fad and I might be without the job I love, but it's still going strong. After more than 10 years, I have a solid regular client base and new customers are still coming in. Currently I have orders lined up for a year ahead - so maybe I have been too pessimistic, and the future is bright indeed.
19.What are your plans and hopes for the future?
I hope I will be able to continue my reborn work after my real baby comes. Reborning and sculpting really brings so much creativity and satisfaction into my life.
20.Do you have something new in the works?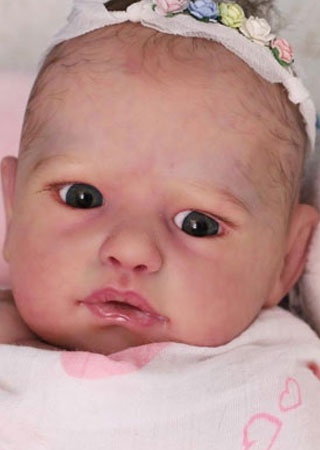 Sheila by Lenka Hucinova
18" UNFINISHED Doll Kit w 3/4 Limbs