Heike Kolpin
Interview by
MacPherson Arts & Crafts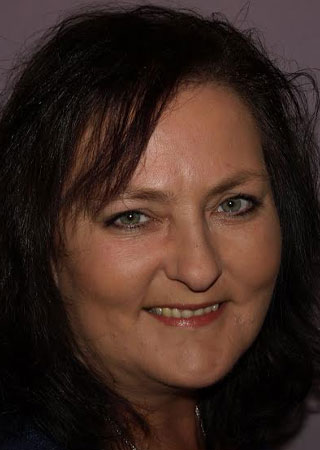 1. Where are you from and where do you live now?
Hey,
my name is Heike Kolpin, I am 49 years old and I'm from the South of Germany, near lake Constance. I live there with my two children and my two dogs.
2. Have you always been interested in dolls?
When I was a child, I never liked playing with dolls but when I grew older I discovered rebornbabies and I was totally fascinated.
3. When did you first become interested in sculpting?
After I first concentrated on reborning doll kits, I became more and more interested in sculpting my own baby so I ordered some clay and gathered different information from other sculpters and began to sculpt. In May 2007 I held the first baked head in my hands.
4. How did you first encounter reborn dolls?
I first saw a reborndoll in an internet auction in 2006. I was really interested in it and started to get more information about reborns. After that, I began to reborn my first doll.
5. Have you sculpted dolls from the time you started sculpting, or
did you start off with something else?
I always scupted dolls, but I've also tried other things in the last few years. For example I sculpted some little elves or other fairytale characters, like Hansel or Gretel and the witch.
6. How long have you been sculpting?
I've been sculpting for 12 years now and I still love it. It's very relaxing for me and it calms me down in difficult times.
7. What medium do you use to sculpt your babies with?
I use super sculpey living doll clay and many different tools.
8. What inspires & motivates you to sculpt?
I really love the feedback from all of the reborners and reborn-mummies. I get so many love from them and I think it's a beautiful community I like to be part of.
I also think it's so amazing, how different a baby can look, if it's reborned. Even if it's the same kit, every reborn baby looks beautiful in it's own way.
9. Do you sculpt full time & do you have other hobbies?
I have a job as an lawyer assistant, so unfortunately I can't sculpt full time. I also have to dogs and I love to take them for long walks.
10. Do you only sculpt for kit production or do you do custom ~
portrait orders too?
I only sculpt for kit production, because I don't have time for custom orders. But I tried a portrait one with the last one (Elea) and it looks like my granddaughter.
11. When did your first kit come out and what was the baby's name?
The first kit I brought out by myself was called Amelie and it was in 2012.
12. How many kits have you produced to date?
I have produced 13 kits.
13. Do you have a list of names of all of your kits you have
produced as we would love to have an archive directory for your sculpts?
My kits are:
Amelie
Paul
Maribel
Moira
Joel
Anouk
Levi
Mia
Lilith
Enya
Finley
Milo
Elea
and the next one is coming in Autumn.
14. Which baby of yours has been your all time favorite and why?
That's a difficult question, because I think each of them has something I really like and something I think it could be better. But I think my favourite one is Elea, because it looks like my granddaughter and that's something special for me.
15. Do you plan to continue sculpting babies for kits?
Yes I do. I can't imagine that I will ever get tired of it, because I love it. My next one is coming in Autumn this year.
16. How do you feel about the reborn doll industry? What excites
you and what upsets you?
I really like the reborn doll industry. It's nice to see how friendly many people are, even if you only know the other one from the internet. I have also found a lot of new friends through this and it's great if you have the same interests, but can also talk about other things which are happening in your life right now. This is something that really excites me.
Sometime it upsets me, when reborners are trying to talk each other down on social networks, because I think we are a great community and we should stick together and not take away the enjoyment of other ones.
17. How do you feel about the progression of the art of reborning
over the past 10 years?
I think it's amazing. When I started reborning, there weren't even real colours for the babies. Today, there are so many things you can get for reborning and they look more real than ever. The reborners think about every detail and the babies couldn't look more beautiful. I also love how there are so many different babies and even toddlers.
18. Do you think that this industry has a long term future or do
you think its just a fad that will blow over?
Someone, who is in this industry for a long time, told me, that there are reborn babies for many years now. I think it has a long term future, but I also think there are ups and downs, with new generations, new collectors...
19.What are your plans and hopes for the future?
I hope that the reborn community stays this peaceful and friendly. Everyone has so much love to give and cares for each other. I also hope, that there are coming more beautiful babies to adore.
I plan to sculpt more babies and I still want to develop myself in sculpting.
20. Do you have something new in the works?
Yes, there is a new baby boy coming in Autumn. I don't know his name yet, but it's a boy for sure.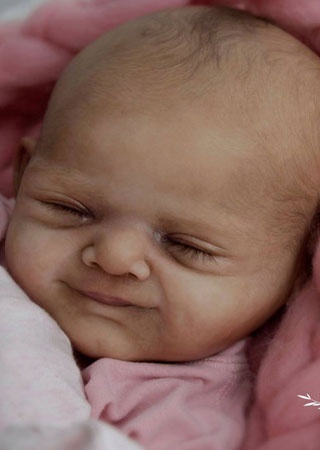 Milo by Heike Kolpin
19" UNFINISHED Doll Kit
Full Limbs