Gudrun Legler
Interview by
MacPherson Arts & Crafts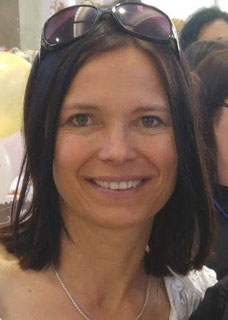 1. Where are you from and where do you live now?
I am from Germany and I am living in Wehr/ Germany
2. Have you always been interested in dolls?
Yes I was interested since I was a little girl
3. When did you first become interested in sculpting?
4. How did you first encounter reborn dolls?
when I was searching for a lifelike doll for my daughter for Christmas in internet in 2005
5. Have you sculpted dolls from the time you started sculpting, or did you start off with something else?
I started with a doll
6. How long have you been sculpting?
since 2005
7. What medium do you use to sculpt your babies with?
super sculpey living doll
8. What inspires & motivates you to sculpt?
my love to dolls and babies
9. Do you sculpt full time & do you have other hobbies?
I have also my family, garden, guitar, friends..
10. Do you only sculpt for kit production or do you do custom ~ portrait orders too?
kit production
11. When did your first kit come out and what was the baby's name?
with masterpiece, it was my baby Emily, masterpiece called her Claire
12. How many kits have you produced to date?
about 30
13. Do you have a list of names of all of your kits you have produced as we would love to have an archive directory for your sculpts?
Pauline
Kyra
Tanya
Nils
Nico
Nina
Valentina
Niclas
Nele
Linus
Max
Lilian
Livia
Mathis
Tim
Mattia
Noa
Lindea
Malea
Tony
Maike
Yael
Tayra
Sanya
Aleyna
Yannie
Mika
masterpiece:
Joshua
Emily / Claire
14. Which baby of yours has been your all time favorite and why?
don't know
15. Do you plan to continue sculpting babies for kits?
yes
16. How do you feel about the reborn doll industry? What excites you and what upsets you?
upsetting is the illegal copies
17. How do you feel about the progression of the art of reborning over the past 10 years?
they are getting better and better / more realistic
18. Do you think that this industry has a long term future or do you think its just a fad that will blow over?
future
19.What are your plans and hopes for the future?
to create many new babies and hoping there will be a market for the reborns
20. Do you have something new in the works?
yes two sleeping babies