Ebtehal Abul
Interview by
MacPherson Arts & Crafts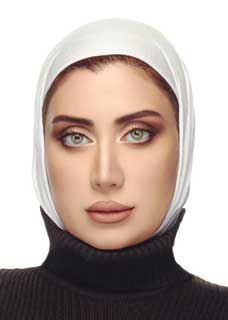 1. Where are you from and where do you live now?
I am from Kuwait, a small country located in the Arabian peninsula in the Middle East.
2. Have you always been interested in dolls?
I have always admired dolls, and have been collecting reborns since 2012, as a baby clothing designer I used my reborns as models, I started buying one and ended up with 5, it was an addicting thing.
3. When did you first become interested in sculpting?
In 2017, I did it for fun, it was my first time holding a clay, I have worked with digital 3D modeling back in 2007, and loved modeling faces and heads the most, but couldn't imagine that I can achieve that on clay.
4. How did you first encounter reborn dolls?
I have seen them as baby clothing models on my friends shop on ebay, and fell in love with them, and when I started my line in baby clothing I decided to buy one.
5. Have you sculpted dolls from the time you started sculpting, or did you start off with something else?
I started with a doll head.
6. How long have you been sculpting?
Since 2017
7. What medium do you use to sculpt your babies with?
I sculpt with polymer clay.
8. What inspires & motivates you to sculpt?
I have always asked my self how they were made? And have always admired the artists that sculpted them.
9. Do you sculpt full time & do you have other hobbies?
I sculpt when my mind is clear and have the inspiration.
10. Do you only sculpt for kit production or do you do custom ~ portrait orders too?
I sculpt for both vinyl production and full silicone babies.
11. When did your first kit come out and what was the baby's name?
My first kit is Sara and she is expected to be released in November 2020.
12. How many kits have you produced to date?
I have both Sara and Coco in the process of production at the meantime, Sara is going to be released in November 2020, and Coco is expected to be released in January 2021.
13. Do you have a list of names of all of your kits you have produced as we would love to have an archive directory for your sculpts?
Sara Coco Issac " truborns" kit Aziz, only a silicone OOAK
14. Which baby of yours has been your all time favorite and why?
Coco, she was my first ethnic baby, I didn't expect her to be so perfect.
15. Do you plan to continue sculpting babies for kits?
Yes, because it is my ultimate happiness.
16. How do you feel about the reborn doll industry? What excites you and what upsets you?
I haven't released my kits yet but I have shared pictures of my sculpt on my facebook account, I love how collectors and artists are reacting to my work, I love when I received comments that I have sculpted a dream baby from someone, that really makes me happy. What upsets me is seeing the hard work of some well known artists being copied illegally.
17. How do you feel about the progression of the art of reborning over the past 10 years?
I feel very happy to see how bigger this community is growing, new artists new collectors, each artist has her own way in painting, I can tell now by just looking to a reborn baby who sculpted and who painted it.
18. Do you think that this industry has a long term future or do you think its just a fad that will blow over?
I can see a very bright future to this industry, reborn dolls are very addictive, I my self was a collector once and felt that I will keep on buying reborns for ever, until I find the sculpting abilities and moved from being a collector to being an sculptor. In the Middle East, reborns are not popular yet, but we have so many people that is interested in buying them, and the audience is growing big.
19.What are your plans and hopes for the future?
I hope to make more babies and participate in international doll exhibition and meet all artists and collectors in person.
20. Do you have something new in the works?
I am currently working on a new baby called Zain that is expected to be released in the second half of 2021.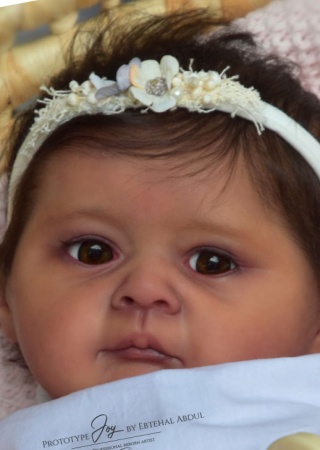 Joy by Ebtehal Abul
20" UNFINISHED Reborn Doll Kit