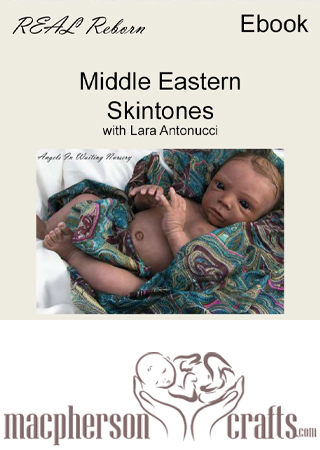 RealReborn How to Paint Middle Eastern Skin Tones Ebook
RealReborn
How to Paint Peaches & Cream Skintones Ebook
Share:
HOW TO DOWNLOAD YOUR EBOOK:
After you have paid for your order, you download link will be available in your list of orders. Please note that you will have to be logged into your account in order to see your orders
Click HERE and then click on your order number. You will see a bright green button in your order. Click on this button to download the PDF file.
REAL Reborn eBooks are designed to take you step by step reborning a baby. Each eBook is unique with different skin tones and techniques.eBooks are filled with pictures, easy to follow directions, some with video links and some with DVD's.
LEARN HOW TO:
Mix paint
Skin tones
Mottling
Blushing
Undertoning
Veining
Fine Details
Lips and Nails
Hair Painting
Micro Rooting
This eBook will take you step by step to creating those exotic Middle Eastern/Indian skin tones! The eBook will go over painting techniques to take a neutral Caucasian vinyl to a beautiful deep Middle eastern/Indian Ethnic tone.
Reviews
There are yet no reviews for this product.
Download Products

How to Paint Middle Eastern Skin Tones
downloads