Joanna Kazmierczak
Interview by
MacPherson Arts & Crafts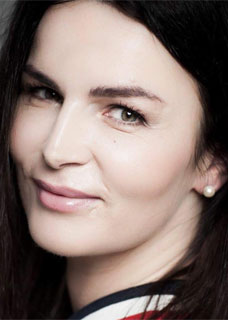 1. Where are you from and where do you live now?
I'm from Poland, moved to UK for 12 years of my life but recently I moved back to my home land.
2. Have you always been interested in dolls?
As a little girl I always enjoyed playing with baby dolls in a roll of a mummy.
3. When did you first become interested in sculpting?
When I visited my first doll show in Peterborough UK, I seen one of a kind dolls and I spoke to Linda Murray about sculpting and she encouraged me to do so.
4. How did you first encounter reborn dolls?
I first stumbled on reborn babies when I was on eBay looking for a doll for my little niece and they caught my attention straight away and started looking into it more.
5. Have you sculpted dolls from the time you started sculpting, or did you start off with something else?
I started off with dolls and carried on with dolls through out.
6. How long have you been sculpting? It's now been 8 years since I started my sculpting in 2011
7. What medium do you use to sculpt your babies with?
Polymer clay and monster clay
8. What inspires & motivates you to sculpt?
I'm inspired by real babies, pictures of babies and trying to capture the most realistic looks. I'm motivated by my lovely and loyal customers.
9. Do you sculpt full time & do you have other hobbies?
Sculpting and doll making is my full time job. My hobbies is fitness and yoga ?‍♀️
10. Do you only sculpt for kit production or do you do custom ~ portrait orders too?
At the moment I'm not taking any custom order, I only sculpt for kit productions and mostly silicone babies
11. When did your first kit come out and what was the baby's name?
My first kit was baby Grantham and its was in 2013 produced by true born.
12. How many kits have you produced to date?
Upto date I have produced now 8 vinyl kits
13. Do you have a list of names of all of your kits you have produced as we would love to have an archive directory for your sculpts?
Grantham 2013 Nixon 2013 Alexa 2014 Mathilda 2014 Amelia 2016 Sunny 2017 April 2018 Lou Lou (2019)
14. Which baby of yours has been your all time favorite and why?
I love my smiling babies so it's hard to pick one favourite. Smiling babies always bring me so much joy and you can't help but smile back which is why they are my favourites.
15. Do you plan to continue sculpting babies for kits?
Yes, I'm trying to release at least 1 sculpture for a vinyl kit a year.
16. How do you feel about the reborn doll industry? What excites you and what upsets you?
I love our dolly community. In my experience lucky I haven't encountered any nasty or rude behaviour. I love meeting and chatting online with everyone and sharing our passion. I love seeing every artists new creations. The only thing that upsets me it's kit copying,thievery and illegal reproductions.
17. How do you feel about the progression of the art of reborning over the past 10 years?
I'm absolutely amazed by the artists progression in my eyes the progress of sculptures, painting and rooting is on such a high level its mind blowing. Looking back at my work I can see my progression aswell and I hope I will develop more as we are all aiming for the perfection.
18. Do you think that this industry has a long term future or do you think its just a fad that will blow over?
I'm hoping doll collecting will last for years and decades as I'm meeting a lot of new young people who are interested in dolls I know mothers who share their passions with daughters. I absolutely love sculpting and creating dolls so I hope their will be people who enjoy them for years to come.
19.What are your plans and hopes for the future?
My dream is to visit doll show in United States as there's many customers of mine I would to finally meet. I'm willing to work harder and push myself to create more realistic dolls in the future.
20. Do you have something new in the works?
At the moment I'm working on my new silicone baby Gloria which will be released as s silicone kit, my baby Lou Lou is currently in production for a vinyl kit and I'm working on full body silicone baby June edition. Chat Conversation End Type a message...