Interview by MacPherson Arts & Crafts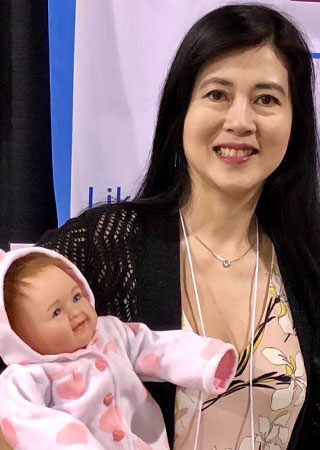 1. Where are you from and where do you live now?
From Singapore and now live in the Washington, D.C. area.

2. Have you always been interested in dolls?
Yes, loved dolls fromchildhood and try to create what would have appealed to me as a child.

3. When did you first become interested in sculpting?
I started as a painter and illustrator and it evolved into sculpting when I found that many
in the USA shared my love of dolls.

4. How did you first encounter reborn dolls?
I guess when the term was first coined so from the beginning. I was already in the doll business.

5. Have you sculpted dolls from the time you started sculpting, or
did you start off with something else?
Started with fantasy figures.

6. How long have you been sculpting?
20+ years

7. What medium do you use to sculpt your babies with?
Polymer clay

8. What inspires & motivates you to sculpt?
Right now, with dolls, it's what I'm commissioned to sculpt but I want to capture the essence and expressions of real children. With pets, it's the incredible cuteness and
loveability of our companions and I also focus on theatened and endangered
animals and donate a portion of my proceeds to conservation.

9. Do you sculpt full time & do you have other hobbies?
Full time job. My hobbies are opera, hiking with my dogs and travelling.

10. Do you only sculpt for kit production or do you do custom ~
portrait orders too?
I sculpt for Ashton Drake and Paradise Galleries as well. I used to do custom portraits but unfortunately, no longer have the time.

11. When did your first kit come out and what was the baby's name?
It was a Asian little baby whose name I've entirely forgotten!

12. How many kits have you produced to date?
I've lost count...

13. Do you have a list of names of all of your kits you have
produced as we would love to have an archive directory for your sculpts?
Please check with Lifelike Babies& Toddlers, Irresistables and Puppen-Traumland. It's been many years and many kits.

14. Which baby of yours has been your all time favorite and why?
I have several favourites but two of them are little Anming owned by Irresistables; typical infant innocence in that face and Mila, my latest with Lifelike Babies & Toddlers; she's the happiest kit ever.

15. Do you plan to continue sculpting babies for kits?
Absolutely!

16. How do you feel about the reborn doll industry? What excites
you and what upsets you?
The increasing level of realism that reborn artists are able to achieve, some are so good they almost breathe! My pet peeve is the wrong sized eyes used. Many artists use eyes that are too large and there is almost no white showing; what I call puppy-dog eyes. They may be cute but they look more like puppies than human babies.

17. How do you feel about the progression of the art of reborning
over the past 10 years?
The bar has definitely been raised and reborns are getting more detailed and realistic.

18. Do you think that this industry has a long term future or do
you think its just a fad that will blow over?
I believe it's here to stay though it may evolve as preferences change but I think realistic babies will maintain a strong appeal.

19.What are your plans and hopes for the future?
Some of that is secret but I would like to work on some more expressive older children. As children get older, there are more varied expressions and emotions that I would like to capture.

20. Do you have something new in the works?
Always!