Interview by
MacPherson Arts & Crafts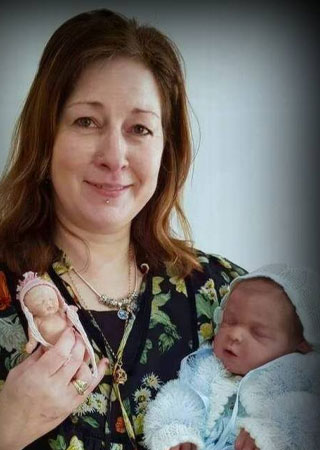 1. Where are you from and where do you live now
I am from Cork City in Ireland. After a few years living in Germany I moved back to Belfast in northern Ireland.
2. Have you always been interested in dolls?
Yes! I have always loved dolls. Unlike many girls I've never owned a Barbie doll or Sindy doll but I had my beloved Daisy a Mary Quant doll. I absolutly adored her. I loved rag dolls and match box beanie babies. I also had a very realistic baby doll. I brought her to school one day and whilst playing with her I threw her in the air, my teachers ran over and took her off me because they thought she was a real baby. I was about 9 or 10 years old. I still find it very funny
3. When did you first become interested in sculpting?
I became interested in sculpting when I first came across reborn dolls on the internet. I was totally in awe and knew straight away I wanted to try my hand at sculpting.
4. How did you first encounter reborn dolls?
I saw reborn dolls on the internet whilst doing course work. From that first momemt I knew I wanted to sculpt the actuall dolls.
5. Have you sculpted dolls from the time you started sculpting, or did you start off with something else?
I had never sculpted anything before. I have only ever sculpted dolls and it's been a passion ever since to improve each one as I go along. I have thought about taking on sculpting classes but there is nothing available near me just yet.
6. How long have you been sculpting?
I have been sculpting dolls on and off for about 13 years. At first, I sculpted mainly mini babies. I then moved onto sculpting bigger dolls and soon started producing my own vinyl reborn kits and then moving onto silicone babies. I am self taught so there is still plenty of room for improvments.
7. What medium do you use to sculpt your babies with?
I use mainly polymer clays. I have tried monster clay and air drying clays too.
8. What inspires & motivates you to sculpt?
I'm inspired by real babies, their different expressions, cute little hands and feet. My motivation is to improve with each sculpt. Hope people like my new work and my over all wish is that reborners and collectors love my babies and that they make people happy.
9. Do you sculpt full time & do you have other hobbies?
I used love painting but now I mainly sculpt, I recently started some reborning too. I also like to read. I love spending time at our static caravan in the country with the family. It's really lovely and peaceful there. I like taking on other creative projects too from time to time.
10. Do you only sculpt for kit production or do you do custom ~ portrait orders too?
I mainly sculpt for vinyl or silicone production now but I have done some custom and protrait work in the past. I used love sculpting mini babies but my eye sight doesn't allow it any more.
11. When did your first kit come out and what was the baby's name?
My first baby was Sweet Maria in 2007. She was a very small edition.
12. How many kits have you produced to date?
I think we have produced about 51 kits so far and about 13 silicone editions.
13. Do you have a list of names of all of your kits you have produced as we would love to have an archive directory for your sculpts?
My goodness so many to recall but I'll try my best. They are not in correct order of production but here goes
1. Sweet Maria, 2. Jamie, 3.Sam, 4. Kiley, 5. Sarah, 6. Darren, 7. Aimee, 8. Sabrina, 9. Brian, 10. Mika
11. Stephanie, 12. Liam, 13. Dylan, 14. Brianna, 15. Roisin, 16. Tara, 17. Stephen, 18. Sinead, 19. Siofra, 20. Kristin
21. Carson, 22. Kellie, 23. Jaycee, 24. Billie, 25. Eden, 26. Evan, 27. Enya, 28. Niamh, 29. Niall, 30. Cormac
31. Toby, 32. Eli, 33. Phoebe, 34. Ruby, 35. Aisling, 36. Aoife, 37. Clodagh , 38. Mia, 39. Cameron, 40. Katroina
41. Leo, 42. Lola, 43. Bonita, 44. Lilia, 45. Lil' Chick, 46. Lil' Yawn, 47. Lil' Cry, 48. Lil' Smile, 49. Cheeky Monkey, 50. Demi
51. Kitty
Silicone Babies
1. Ryan Lee, partial silicone, 2. Petal full body girl silicone, 3. Tyler boy full body silicone, 4, Tyler girl full body silicone, 5. Toby boy and girl edition partial silicone, 6. Eli girl and boy edition partial silicone 7. Kai full body boy silicone, 8. Joseph boy/ girl edition partial silicone, 9. Olivia girl edition partial silicone
10. Katie girl full body silicone, 11.Kaitlin full body girl, 12. Erin girl full body silicone, 13. Erin boy full body silicone. Besides these, I have had a single full body Lexus silicone baby produced, only 1 worldwide!
14. Which baby of yours has been your all time favorite and why?
I have lots of favourites in my vinyl dolls so can't really name one. Babies with expressions are my favourite. Out of my silicone babies I would have to say baby Kai. I adore him, he is the baby pictured in my profile photo.
15. Do you plan to continue sculpting babies for kits?
Yes I do and hopefully for a long time to come and of course as long as people like my babies.
16. How do you feel about the reborn doll industry? What excites you and what upsets you?
Well, the market has certainly changed alot over the years. It's amazing to see such fantastic talent emerging worlwide. It's mind blowing to see new sculptors/ reborners coming out with such life like amazing work and it gets more realistic as time goes on. It also lovely to see our wonderful collectors inventive photographs and the stories they share. It is lovely to part of a wonderful community. It's very inspiring to see just far the industry has come.
17. How do you feel about the progression of the art of reborning over the past 10 years?
Absolutley mind blowing
18. Do you think that this industry has a long term future or do you think its just a fad that will blow over?
It's hard to say really. The industry is forever changing with new and brilliant ideas all the time. The illegal copying of work worries me. It's sad and stressful for the artists and collectors involved.
19.What are your plans and hopes for the future?
I would like to continue this wonderful art form for as long as I can. I love sculpting babies and hope to get much better as time goes on.
20. Do you have something new in the works?
At the moment we have Kitty Donnelly our new sculpt on pre-sale. I have new some new sculpts coming out next year. Teddy and Angelo. I also have two more babies ear marked for vinyl producton. I also hope to have one or two new silicone editions out if all goes well.