Interview by
MacPherson Arts & Crafts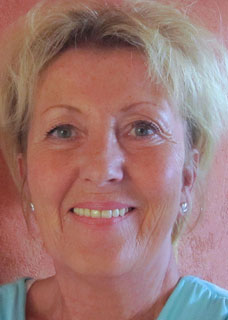 1. Where are you from and where do you live now?
From The Netherlands and I live in The Hague
2. Have you always been interested in dolls?
As a child of 10 years old I started to knit my own doll clothes, teached by my mum
3. When did you first become interested in sculpting?
When I found the books about sculpting dolls with air-drying clay by Joke Grobbe. At that time she still lived close to my home. This was in the year 1992
4. How did you first encounter reborn dolls?
When Cindy from RDK asked me if she could buy one of my sculpts for production ! She produced my very first Twin . After that several other kits followed . I must say, I never had any problem with her .
5. Have you sculpted dolls from the time you started sculpting, or
did you start off with something else?
Only dolls

6. How long have you been sculpting?
It's 27 years now

7. What medium do you use to sculpt your babies with?
Polymer clay

8. What inspires & motivates you to sculpt?
My love for babies and my hunger to always create new things

9. Do you sculpt full time & do you have other hobbies?
I also love to knit, crochet, sew , and reborn

10. Do you only sculpt for kit production or do you do custom ~
portrait orders too? I do both

11. When did your first kit come out and what was the baby's name?
March 2007 , a twin called Nicole and Natalie

12. How many kits have you produced to date?
19 and 6 complete dolls for HSE

13. Do you have a list of names of all of your kits you have
produced as we would love to have an archive directory for your sculpts?
Nicole and Natalie, Fallon, Shamira, Kaylee,Bethany, Marcus. These are from different companies.The next are all by Puppen-Traumland in Germany : Steffi, Ilse, Savira, Melissa, Jayla, Tosca and twin Sandra, Fenna, Vicky, Demi . 3 0thers are still in the making .

14. Which baby of yours has been your all-time favorite and why?
Well, as a true mum I love all my babies the same , no special treatment for any of them
As I always say : " There is a little piece of me inside every doll I make" !!

15. Do you plan to continue sculpting babies for kits?
As long as I can .

16. How do you feel about the reborn doll industry? What excites
you and what upsets you? For me the excitement is in every new kit of one of my sculpts coming out . The most upsetting thing in the dolls world for me is the jealousy

17. How do you feel about the progression of the art of reborning
over the past 10 years? It is wonderful to see how realistic they have become

18. Do you think that this industry has a long term future or do
you think its just a fad that will blow over?
I don't think it will blow over, as long as we keep telling and showing this wonderful hobby to the next generations

19.What are your plans and hopes for the future?
Well, my health isn't so good anymore , but I plan to continue as long as I can

20. Do you have something new in the works?
ALWAYS !!!