Interview by
MacPherson Arts & Crafts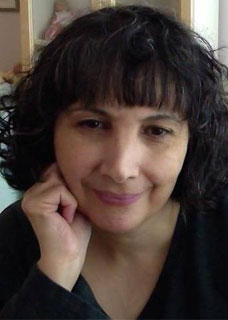 1. Where are you from and where do you live now?
I live in Toronto. I immigrated to Canada in 1978 when I was seventeen. I grew up in Lebanon and Jordan.
2. Have you always been interested in dolls?
Absolutely. I always loved my dolls as a child, and never actually grew out of it! I can still remember the excitement and anticipation when I was expecting a new doll for a gift. I remember once asking my grade two teacher if I could go home early. I had just received a new doll the day before, and couldn't wait to go back and play with her!

3. When did you first become interested in sculpting?
I first became interested in sculpting in 2009, when I took up needle felting, which is the art of sculpting by felting raw wool roving with a needle. I sculpted animals and teddy bears.

4. How did you first encounter reborn dolls?
In late 2009, as I was looking for ideas on Youtube for felting teddy bears, I stumbled upon a video of mini ooak babies by Ros Schramm. They literally took my breath away, as I had never seen anything so stunning and precious before. A baby that was so real looking and could fit on the palm of the hand! I immediately ordered supplies and an instructional video (from Macpherson Arts and Crafts actually!). I was so captured by the idea of sculpting realistic babies that it felt like I "had to do it." In those days, I was working and raising my family. But I would find time to sculpt once a week, even if I had to sacrifice sleep.
5. Have you sculpted dolls from the time you started sculpting, or did you start off with something else?
As I mentioned, I had been needle felting for about a year before I stumbled on ooak dolls.
6. How long have you been sculpting?
Since 2010.

7. What medium do you use to sculpt your babies with?
Polymer clay (Super Sculpey).
8. What inspires & motivates you to sculpt?
I adore babies and animals. They both give me a feeling of joy and lightness I get no where else. I have a strong attraction to sculpting infants in their first moments of life because they touch my heart in powerful ways when they are that young and fragile. My aim is to create sculpts that are endearing, while being striking in their realism. It takes me countless hours to sculpt a doll. I get a profound sense of calm from the concentration required to sculpt that level of detail, and a feeling of joy as I see the features and personality of each baby emerge in the clay.

9. Do you sculpt full time & do you have other hobbies?
I am a social worker by profession. I have a counselling practice in Toronto. Over the past two years, I have tried to cut back my hours slightly so I can have more time to sculpt.
10. Do you only sculpt for kit production or do you do custom ~ portrait orders too?
As of yet, I don't do portraits, although I may take that up some day if I have more time. For now, I sculpt for vinyl and silicone reproduction.
11. When did your first kit come out and what was the baby's name?
My first kit came out in 2016 and her name was Addie.
12. How many kits have you produced to date?
For vinyl, I have had two kits done so far, and am expecting my third to be released this fall. I have also released a few silicone editions.

13. Do you have a list of names of all of your kits you have produced as we would love to have an archive directory for your sculpts?
Addie, Eloise, and the upcoming Sierra.

14. Which baby of yours has been your all time favorite and why?
I would say Sierra, the one coming out this fall. Her face really speaks to me, and I find her very precious and delicate.

15. Do you plan to continue sculpting babies for kits?
Yes I do. It's wonderful to see various artists' versions of my work.

16. How do you feel about the reborn doll industry? What excites you and what upsets you?
I think the reborn industry is an amazing place. It has so many talented and passionate artists. The collectors and their love of our dolls warm my heart. It is a unique industry in the way sculptors, reborn artists, silicone molders, and collectors get to know each other over Facebook. I have made some wonderful friendships through that. What upsets me about this industry are two things: when I see people being disrespectful to one another (as can happen in online communities), and most of all, the illegal copying of kits. I had one of my kits copied last year, and it's a terrible feeling of violation.
17. How do you feel about the progression of the art of reborning over the past 10 years?
I think it is incredible! I have so much respect for reborn artists. I am in awe of the progression and innovation in painting and micro-rooting techniques that are bringing about amazingly realistic looking babies!

18. Do you think that this industry has a long term future or do you think its just a fad that will blow over?
I think that people will always love babies! Collectors and artists continually get so much joy from every new doll that comes out. I also see young new collectors and artists coming up all the time, so I think it is here to stay.

19.What are your plans and hopes for the future?
I hope to continue sculpting babies, and to keep growing as an artist. I like to keep building on my skills, and challenging myself to bring out more and more realism with every doll.

20. Do you have something new in the works?
Yes, I have two things in the works. I have Sierra coming this fall in vinyl. She is a 15-16 inch sleeper. I have lined up an incredible selection of prototype artists for her, and am really excited to see her brought to life. I am also working on a tiny, very realistic full body baby with newborn features that will be reproduced in silicone. She will be small enough to fit in the palm of the hand.