Natalie Scholl
Interview by
MacPherson Arts & Crafts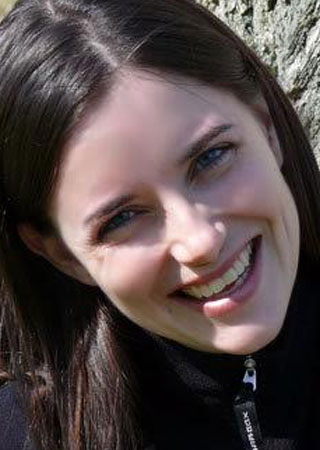 1. Where are you from and where do you live now?
I am from London, Ontario, Canada where I still reside.
2. Have you always been interested in dolls?
I have been interested in dolls for as long as I can remember.
3. When did you first become interested in sculpting?
When I was 11 years old, my Mom took me to a porcelain doll making class, and while they said I was too young to take it, she assured the teachers I wouldn't be a problem. I loved painting dolls with this group of ladies and continued to do so, but became frustrated because I couldn't change the shape of their limbs or head! When I started university, it dawned on me that someone had to have sculpted the original doll to make the molds for the porcelain castings, so I started researching online, (the internet was all of a sudden a wealth of knowledge that I didn't have a couple years prior). I started sculpting in my spare time, but put it away while finishing my university career. After graduation, I required heart surgery and while recovering, I picked up some clay again and made my first miniature baby. My brother then convinced me to sell it on Ebay, (which was relatively new at that time). That is how I began my sculpting career and how I began selling my works.
4. How did you first encounter reborn dolls?
I first became familiar with reborn dolls when I saw people taking apart Ashton-Drake and other such dolls, stripping the paint and hair, and then redoing it all to make them look ultra-realistic. I didn't become familiar with reborn doll kits as we know them today, until I was contracted by Masterpiece Dolls to sculpt a kit for them, as well as a fully completed doll. After this, I was able to continue offering them to the public on my own through my website as well as through dealers around the world.
5. Have you sculpted dolls from the time you started sculpting, or did you start off with something else?
I started sculpting dolls, although I did make one piece of a woman holding newborn twins. I have always wanted to try some other things, but have not had the time to delve into those ideas yet!
6. How long have you been sculpting?
I have been sculpting for almost 15 years now.
7. What medium do you use to sculpt your babies with?
I use polymer clay to sculpt my dolls, specifically, Prosculpt - Fairy colour. I have used others, but this is my preferred product.
8. What inspires & motivates you to sculpt?
Many things inspire me to sculpt. It can be looking at pictures of a baby, just a thought that flitters through my head, or an emotion that I feel in my heart.
9. Do you sculpt full time & do you have other hobbies?
I do sculpt full time. I did have to take some time off, unfortunately, but am back to sculpting full-time. I have various hobbies, which makes it hard for me to focus at times! I love home renovations, fixing mechanical things, oil painting, drawing, knitting, sewing, gardening, photography, storm-chasing, birding, hiking, camping, and woodworking. There are probably many more, but those are the foremost that come to mind.
10. Do you only sculpt for kit production or do you do custom ~ portrait orders too?
I sculpt for kit production, small special editions in other mediums, every now and then a miniature ooak, and seldom, custom order ooaks.
11. When did your first kit come out and what was the baby's name?
My first kit that came out, I believe was in 2008, named, "Hailey", which was produced by Masterpiece Dolls.
12. How many kits have you produced to date?
I have produced 6 kits and currently have another in production right now, with two others on the way.
13. Do you have a list of names of all of your kits you have produced as we would love to have an archive directory for your sculpts?
- 2008, (roughly) - Hailey - Produced by Masterpiece Dolls
- 2010 - Jayden - Produced by Art Dolls by Natalie Scholl
- 2011 - Ryan - Produced by Art Dolls by Natalie Scholl
- 2013 - Will - Produced by Art Dolls by Natalie Scholl
- 2015 - Emma - Produced by Art Dolls by Natalie Scholl
- 2016 - Sofia Grace - Produced by Art Dolls by Natalie Scholl
14. Which baby of yours has been your all time favorite and why?
I think my all time favourite would have to be Jayden, because he was sculpted with no preconceptions of what a kit should look like. When you work for a company, you are usually told what look they want, what they want changed, or something of the sort and by the time you finish, it's not really your vision, as an artist. At that time, there were not many kits on the market and I very much wanted to create the most realistic newborn baby I could, right down to the limbs, hands, and feet. I longed to do this, because that is what I had been searching for, ever since that little girl of 11 was frustrated with porcelain doll making. Now I could do it, and I could do it on my own. It was my favourite because I realized a dream I'd had for such a long time. He was also sculpted using my nephew's pictures, so it makes it even that much more special to me.
15. Do you plan to continue sculpting babies for kits?
Yes, I definitely plan to keep sculpting to make more doll kits.
16. How do you feel about the reborn doll industry? What excites you and what upsets you?
The reborn doll industry excites me because I see so many reborning techniques being used today that are extremely realistic! Each time I see something that I can't think could POSSIBLY look more real, another comes along. The same can be said for the sculpting artists that bring out these kits. It's in constant flux, and I love that about it. Many people think it has become stagnant, and to some, it has for them. There are always new things coming out, new ways of doing things, so my advice would be, get creative! Find what makes you special, if you feel things are stagnant! You might be the next Picasso!
17. How do you feel about the progression of the art of reborning over the past 10 years?
(I think the above answer also answers this question).
18. Do you think that this industry has a long term future or do you think its just a fad that will blow over?
Dolls have been around for centuries. From the most primitive, to more complex fabric ones, antique porcelains, vinyl play dolls, collectibles in various mediums, reborn dolls, etc. Everyone has a collection that is unique to them for some reason. Things may slow down and become hot again, just like Cabbage Patch Kids, so yes, I do always think there will be room for them in the industry.
19.What are your plans and hopes for the future?
My plans for the future are to introduce new concepts, while focusing on improving my own skills, continuing my studies in anatomy in the neonate and how that can be incorporated into each piece.
20. Do you have something new in the works?
Yes. I always have something new in the works. Often, I need to refresh my eyes, so I do that by going to a different sculpt and then coming back to the one I was first working on. This is a technique that I find is very helpful for me.