Elizabeth Townsley
Interview by
MacPherson Arts & Crafts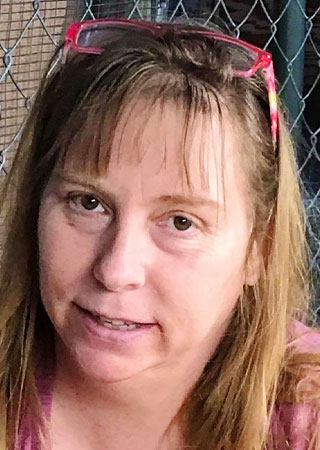 1. Where are you from and where do you live now?
I was born in Denver Colorado and grew up in Colorado and Sheridan Wyoming
2. Have you always been interested in dolls?
Truly since I was just a few months old. My first doll was raggedy Ann. For my 7yr old Christmas I received 7 dolls because that was all I wanted. I'm 50 now and still live, collect, and make dolls.
3. When did you first become interested in sculpting?
In high school I was introduced to ceramics. My love of sculpting started then and has flourished since!
4. How did you first encounter reborn dolls?
I saw a mini sculpted doll in a magazine and thought "I could do that". When I started selling my sculpts I discovered reborn dolls and it's artistry.
5. Have you sculpted dolls from the time you started sculpting, or did you start off with something else?
When I started sculpting in ceramics I sculpted figurines. I started sculpting dolls after seeing another artists work in a doll magazine.
6. How long have you been sculpting?
36 years
7. What medium do you use to sculpt your babies with?
I use super sculpy.
8. What inspires & motivates you to sculpt?
Seeing babies and children in their carefree happy states as well as seeing what other artists have done and being inspired to follow with my own unique ideas.
9. Do you sculpt full time & do you have other hobbies?
I volunteer at a bird sanctuary, love to fish (I don't catch much lol), I do felting, draw, and craft. I sculpted full time for over 10 years but after my hysterectomy I lost my ability to do anything for long periods of time.
10. Do you only sculpt for kit production or do you do custom ~ portrait orders too?
I occasionally do sculpts for kits. I mostly do mini one of a kind babies which I often sculpt from baby pictures I find in ads and magazines.
11. When did your first kit come out and what was the baby's name?
My first kit came out over ten years ago thru "Bloomers*N*Bows. The kit was a lifesize toddler named Brooklyn.

12. How many kits have you produced to date?
3. Brooklyn, Elmer, and Dream (Thru tru born dolls).
There were several more in production but Elena of Bloomers*N*Bows developed cancer and died not long after. I still remember her with fondest of memories! She was a wonderful person.
13. Do you have a list of names of all of your kits you have produced as we would love to have an archive directory for your sculpts?
Brooklyn, Elmer, Dream

14. Which baby of yours has been your all time favorite and why?
Dream, because she shows how far I have come with my sculpting and her name says it all in so much as my passion for sculpting and creating babies
15. Do you plan to continue sculpting babies for kits?
I don't know if or when I will sculpt another baby for a kit. It would have to be extraordinary for me to do given the number of kits in the reborn community that now exist.
16. How do you feel about the reborn doll industry? What excites you and what upsets you?
Reborn dolls are just gorgeous! The quality of the sculpts and reborn artistry are difficult to surpass. I am fearful of the future given how many kits exist today but I'm excited to see where this industry is going!! Where it started to where it is today is incredible!
17. How do you feel about the progression of the art of reborning over the past 10 years?
It's absolutely amazing how thing have developed from when it all started to where it is today!
18. Do you think that this industry has a long term future or do you think its just a fad that will blow over?
It has a long term future. People have loved and collected dolls for over a century. Reborn dolls are the greatest form of collectible dolls in the category of vinyl and silicone dolls.
19.What are your plans and hopes for the future?
I hope to continue to improve my sculpting abilities and am excited to see where I'll go with my art.
20. Do you have something new in the works?
I'm at the start of some creative works with my sculpting related to babies and young children. I will always sculpt mini babies but am also branching out to other creative forms of doll sculpting.