Cassie Brace
Interview by
MacPherson Arts & Crafts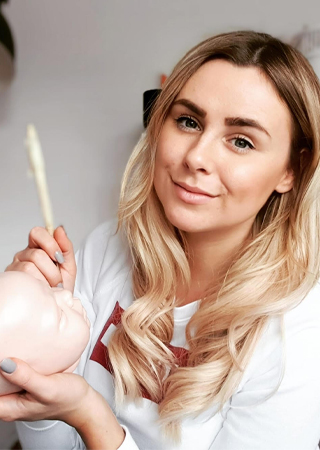 1. Where are you from and where do you live now?
I live in Kent, UK until I was 19 years old, when I moved to a little village just outside Stratford upon Avon
2. Have you always been interested in dolls?
When I was younger I adored my barbie dolls and would spend hours arranging my baby play house, however I wasnt all that keen on baby dolls. In fact, I didn't like them much at all and for a short period any doll or rag doll terrified me. Apart from 'My baby All gone' perhaps, I wanted that baby doll so much.
3. When did you first become interested in sculpting?
With a couple of years reborning under my belt and the desire to challenge myself further, I began to teach myself to sculpt, mainly just heads of all sizes for a while. I never really attempted limbs until I was super happy with a head! I then produced my first doll kit, Hattie, in 2012 where I also sculpted my first 'set' of complete limbs for her.

4. How did you first encounter reborn dolls?
I became a very young mum at the tender age of just 17 and I stumbled across the term 'reborn' often as I searched for baby items online. When I typed this into the search engine I began to discover the world of reborning. Within a week I had all my supplies and completed my first reborn doll in just 1 day - yes you heard it 1 day! I then went on to strip and redo this baby, before finally selling it for next to nothing in order to be able to continue purchasing supplies. Thus, after months of practising and developing my skills, researching and becoming part of this wonderful community, I was able to begin to see a huge and quick improvement with each baby I created. By the time my maternity leave was over, it made sense that i continue to reborn as a self employed business, than return to employment. And who wouldn't take the opportunity to do something they LOVE every single day?

5. Have you sculpted dolls from the time you started sculpting, or did you start off with something else?
Yes I have only ever sculpted dolls and specifically dolls intended to be reproduced into doll kits, not all make it but I really enjoy the whole process of sculpting, to seeing that sculpture become a doll kit brought to life by our community of amazing reborn artists!

6. How long have you been sculpting?
I have been sculpting for over 8 wonderful years- wow I hadn't realised it had been so long. Time flies when you are having fun!

7. What medium do you use to sculpt your babies with?
I love to work exclusively with Living Doll by Sculpey but the clay does not lend itself to ooaks anymore, compared to what it used to. It can be quite fragile even when baked but for me that is not a problem as I do not sculpt ooaks. I can't keep the clay clean enough from lint and fibres! When i sculpt, i can sit for hours playing with the same fingers, nose or toes, the dust collection is inevitable!

8. What inspires & motivates you to sculpt?
I am inspired by pictures of real babies and challenging myself to grow and improve with each one!

9. Do you sculpt full time & do you have other hobbies?
I sculpt full time now, though occasionally I make time to reborn but its very rare now. I do have to limit my hours sculpting and to work because I am a single mummy of 3 beautiful children. Our lives are lived very much in the fast lane and I am so appreciative that my work can give me the down time, therapy and relaxation that is needed.

10. Do you only sculpt for kit production or do you do custom ~ portrait orders too?
I only sculpt for production, however i do sculpt portraits to reproduce into doll kits.

11. When did your first kit come out and what was the baby's name?
2012 and her name was Hattie! It was such an exciting time!
12. How many kits have you produced to date?
I have produced 30 doll kits since 2012

13. Do you have a list of names of all of your kits you have produced as we would love to have an archive directory for your sculpts?
Yes I do here they are in order of production
Hattie
Ella
Junior
Stanley
Sienna Rae
Leelou
Zachary
Pheonix
Toby
Elyse
Nova
Nellie
Sailor Rose
Genevieve
Jospehine
Bluebell
Evelyn
Esmae
Tigerlily
Zoey
Xandr
Luxe
Roux
Ramsey
Ethon
Luciano
Margot
Romilly
Asia
Ruby
WOW!! So proud!
14. Which baby of yours has been your all time favorite and why?
Luciano, he is the portrait of a sweet friends baby. I was and am so very proud of this portrait!

15. Do you plan to continue sculpting babies for kits?
Yes for as long as there is a demand I will continue to reproduce doll kits for reborn artists. The industry has changed a lot over the years, new mediums but vinyl always has a special place i feel.

16. How do you feel about the reborn doll industry? What excites you and what upsets you? I am always blown away with the new talent that is born and progresses. I love to watch fellow artists florish within the industry and encourage each other in this journey. Our community is so amazingly diverse and whilst the majority of us as women, I am also seeing wonderfully talented men joining in too! We are bursting at the seams for painting and sculpting talent!
As wonderful as this industry is, I am saddened often to see or hear of the pirate kits being copied and those supporting their purchase. I am sad and angry for the artists effected by this illegal practise and those who choose support it for nothing but their own gain.
17. How do you feel about the progression of the art of reborning over the past 10 years?
In the last 10 years reborning and the art form on the whole has come on leaps and bounds. We are seeing some of the most realistic sculptures and most amazingly lifelike reborning we have ever seen! Artists are encouraging and supporting each other to progress and it means that the standard of workmanship seem improves all the time!

18. Do you think that this industry has a long term future or do you think its just a fad that will blow over?
This is a really hard question to answer, I simply dont know. I would hope not but then I am realistic in thinking that most art forms have a peak, and we are already seeing the medium of our industry changing over the last few years.

19.What are your plans and hopes for the future? I
will never be able to put the clay down so i know my future will involve sculpting. I hope to be able to continue to inspire reborn artists with my sculpts and continue working as such to support my family. But I am open to change too, and always looking for new opportunities!

20. Do you have something new in the works?
I have a few projects in the works right now and now new portrait babies ready and waiting to be born again in clay! I am so excited about these, I just wish there were more hours in the day x